Hey there! Any astronomy buffs out there? My daughter and I spent several hours under the stars last night watching for meteors from the
Perseid meteor shower
. One of them was amazingly big and bright, with a long wake. Peek viewing time is actually at 4 AM (in about 4 hours). I may have to run out there and have another look then. :) In the meantime...
It's time to share some sneak peeks of Paper Sweeties' August
New Release stamps and dies
, and you are going to love every single one of them! Paper Sweeties is celebrating its 3rd birthday this month (Be sure to check out the
Paper Sweeties Blog
to find out about our HUGE birthday celebration, where you can win prizes from any one of a dozen sponsors!), and as part of the fun, all the new releases this month have to do with birthdays or celebrations!
For my sneak peek card today, I'm using the new
Happy Cake Day stamp
and
die set
. Isn't that cake adorable? I couldn't resist decorating every layer differently. I colored the cake with Copics then added black Pearl Pen dots to the top and bottom layers and gave it some sparkle in the center layer. I rubbed Silver Inka Gold on the cake plate and in real life, it actually looks metallic. One of the things I really like about this set is that Debbie put in two differently designed candles which are separate from the cake, so you can have as many, or as few, as you'd like. I used three striped candles, of course, in honor of Paper Sweeties' birthday. The other candle has dots on it, similar to the cake layers. The balloons are also part of this set. I colored them with Copics then covered them with Stickles. The look a little spotty in the picture, but in real life they sparkle like crazy. For both the cake and the balloons I wanted a thin black border around them, so I fussy cut the stamped images and die cut the matching
Sweet Cuts dies
in black, which left the border I wanted. For the balloons, when I fussy cut them, I cut the strings off, then I stamped the strings onto the black die cut in white ink, before gluing the stamped balloons to it.
For the inside, I just used scraps from the front to add color to the sentiment panel and stamped the cute sentiment in black.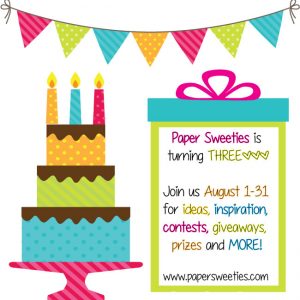 You are definitely going to want to see the sneak peeks from the rest of the DT, too, and don't forget about those prizes I mentioned earlier. There is more than one way to win, and one of the prizes is a $100 gift certificate from Paper Sweeties! Now, that pretty sweet, right?
Hope you'll come back tomorrow for a sneak peek of another fun set!
I'm entering this card in the following challenges:
Viva la Verve August 2015 Week 1 Sketch Challenge
Simon Says Wednesday Challenge: Food and/or Drink
613 Avenue Create #136: Anything Goes
Sweet Stamps Challenge #234: Anything Goes
Art Impressions Challenge #166: Anything Goes
Oddball Art Stamp Challenge: Die Cuts
DoubleClick Skittles: Thank You Cherry Much Food Challenge
~Hugs,